IT Small Business
As a small business owner, you're probably considering what IT support you need to address your business challenges and meet the needs of your staff. You can do it yourself, hire a 'one-man-band' or hire an IT support company (like IT Services Brisbane) who specialise in small business IT support.
If you want your small business to succeed, you need reliable, managed IT support. By not having to worry about IT systems and business continuity, you are free to focus on what you do best.
We would be happy to talk to you about technical services and support services whether you are considering outsourcing IT support for the first time or reviewing your current managed service provider.
IT Systems Support for Small Businesses
Efficient, reliable, and cost-effective services are essential. Our aim is to ensure everything IT-related works exactly how it should do for our clients. With our vast experience of working with clients across Australia in a variety of sectors—each with their own set of challenges—we are perfectly positioned to help you improve communication, productivity, and business efficiency.
Our Brisbane-based support team will provide you with expert guidance when you need it when working with us. We genuinely care about your business needs and offer a personal service when resolving any IT issues you might be having. We see all sorts of problems every day and no problem is too small or big in the digital world. Experienced in troubleshooting and managing hardware installations as well, our technical support team will work hard to get you back up and running as soon as possible.  We'll find a solution for your IT environment to ensure business continuity with the least disruption to your business for your complete peace of mind.
Benefits of Outsourced IT to Small Businesses
You don't have to be an IT expert to run and manage a successful business as you can leave computer issues to someone else that does have the technical skills to do so. Our experienced technicians can be of great benefit to your business in these key areas:
Simplifying your Technology Environment
We provide a specialist IT team that's reliable, efficient and delivers professional support that will enhance your employees' experience to collaborate effectively, and save them time to get on with their jobs—whether in the office or on the road. It is often more cost-effective than doing it yourself.
Cyber Security
Security consultants will explain what steps you need to take to protect your data and react to threats if you are a small business. Cyberattacks are increasing—and no business is immune, no matter how small or large.
Reduce Costs
IT support and maintenance can be expensive. As a business owner, reducing costs without sacrificing service or reliability can be difficult. A dedicated small business IT support provider will come at a cost, but the benefits they provide will be greater than the cost. Hiring your own internal IT team is typically not an affordable option for tiny businesses. You'll receive regular updates on the latest developments and be assisted in choosing solutions that will reduce costs and problems and improve the scalability of your business. To solve any problems, our IT engineers are just a phone call or email away.
Choosing Your Level of Support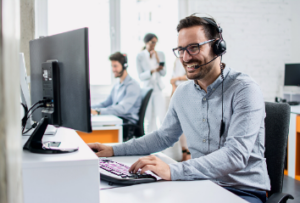 It is critical to employ professional IT support to protect your business infrastructure and to act promptly in the event of a virus infection. If you outsource your IT support to an external company, the level of support you receive will depend on the type and size of your business, existing IT systems and your budget. IT support can range from on-call support from time to time to 24/7 support. The best IT support company will let you dictate the level of service you need. This is the most helpful and adaptable service that small businesses can afford.
You can hire an IT consultant to set up your entire IT infrastructure or to review your existing setup. An IT audit examines your current IT infrastructure, reviews the security, and predicts what changes your business' needs will be in the near future. Specialist tools are used to gather information and create a comprehensive report. We then make recommendations and present them using various timescales so that you can plan, future-proof your company, and adjust to your budget accordingly.
Small Business Support Tips
Deciding on the IT support your business requires is crucial so you can find the most effective solution for your needs and budget. However, you should bear in mind that your level of support is likely to change as your business grows. So, make sure your chosen IT solution is flexible enough to grow with your business and meet its new demands.
We Take Care of All Your IT Small Business Requirements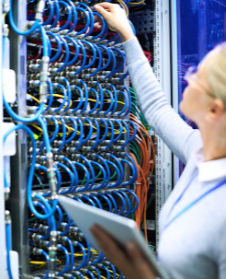 We offer a comprehensive range of IT services and solutions that are tailored to the specific needs of small businesses. Get in touch with us for a no obligation chat about how we can best meet your needs with IT solutions and services that work. Some of the services you may want to consider for your small business include:
Managed IT Services
We all know that when you have an IT failure or glitch that it can be frustrating, as well as resulting in a loss of productivity which can financial consequences. Managed IT services are a long-term solution where your service provider delivers regular IT support to the business—that can include everything, including general maintenance, troubleshooting, fixes and development of your network systems.
This is different to on-demand outsourcing where there is no on-going relationship, and a one-off fee is charged on an ad-hoc basis. Managed IT providers offer pro-active support and immerse themselves in getting to know your business to deliver IT services that are effective in supporting your business as it grows.
IT Solutions
IT Solutions are bespoke services that are tailored to your business' needs. Typically, this takes the form of a designed network solution that may include moving to a new software system, or finding a new solution to perform specific tasks for your business. IT solutions may include a wide range of services, including cloud storage, cyber security and VOIP phone systems.
3CX-VOIP
3CX VOIP is a (voice over internet protocol) is a phone system that allows you to make and receive phone and video calls over the internet instead of traditional phone lines. As long as you have an internet connection, you can use VOIP.
It is beneficial for small businesses because it is a cost-effective way to make calls, it offers features that are typically only available to larger businesses, and it is relatively easy to set up and use. It also has some extra features, such as conference calls, answering services and call redirection—perfect if you have a workforce on the move that isn't based in the office.
Cloud Back-Up
Cloud storage has enabled businesses to store masses of data in a secure environment off-site. It can be a great way for small businesses to keep their data organised and accessible, but it's imperative to use a reputable cloud service provider with suitable safeguards and security to ensure data is protected.
Cost-effective, secure and accessible, there are several types of cloud back-up options available, including public-based services, such as Dropbox, app-based services, such as Google Drive, OneDrive and iCloud and custom-based, private cloud solutions. You will need to think about your needs before you decide on the best solution for your business, but we are happy to talk to you in more detail about what is suitable for your business.
Cyber Security
Cyberattacks are a growing problem for businesses of all sizes. But small businesses are particularly vulnerable to these kinds of attacks for a number of reasons. First, small businesses often lack the resources to invest in cybersecurity. Secondly, they may also have less experienced staff and may be using outdated software. Finally, small businesses may be targeted by hackers because they are seen as easy targets.
Cyber criminals employ various tactics, like hacking, password phishing, ransomware and more. If you don't have an active cyber security program in place, you become an easy target for cyber criminals and your team's devices—as well as targeted attacks on your business servers—become easier to breach, accessing information and potentially stealing it.
We know how to create strategies for your company's safety using technology solutions and security tools. We assess risks and threats and implement solutions to enhance protection. Our goal is to give you and your staff peace of mind by making sure your IT can support you and your business.
Software Support—SaaS (Software as a Service) and Bespoke Software
The software-as-a-service (SAAS) model has become increasingly popular in recent years, and for good reason. SAAS applications are often more affordable and easier to use than traditional software applications, making them a good fit for small businesses who want to scale up but without having to pay the associated costs of tailor-made software.
While there are clearly benefits to using SAAS, there are downsides. Some applications may not integrate with your system or other software you are using; there may be connectivity issues with a loss of the internet connection; a lack of control over upgrades and data security concerns. We can talk to you about SAAS and whether they suit your business needs, or whether an on-premises application may be a more suitable option.
Data Recovery
Most of us have probably experienced that feeling of dread when we have lost files—either because we didn't save them or because our computer has packed in, and we have not backed our data up. As a small business, it's likely that you have high volumes of data and the bottom line is that if you need to recover it, you'll have to call in the experts.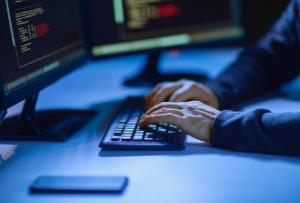 Data recovery is a specialised area, and while we all know prevention in the form of back ups is the best way of not losing your data, in the event that you have, contact IT Services Brisbane for expert recovery services.
Malware Removal
Having a strong security system is fundamental in securing your system from cyberattacks and will save you time and money over the process of removing malware following an attack.  We can assist you with malware removal and talk to you about options for reinforcing your IT systems against future cyber security issues.
IT Services Brisbane – A Trusted Partner for Business
We are a trusted IT provider for your small business because of our commitment to excellence and our dedication to our clients. We have a team of experienced professionals who are passionate about their work and who are committed to providing the best possible services. Our range of services are designed to meet the specific needs of small businesses to help them grow in ever-changing circumstances.
Microsoft Gold Partner
We are a Microsoft Gold Partner—certified by Microsoft to have the expertise and capability to provide Microsoft-based solutions to businesses of all sizes. Gold Partners must meet rigorous criteria set by Microsoft in order to receive this designation.
Cisco Certified Partner
Cisco Certified Partners (CCPs) are verified by Cisco to have the skills, technical capability, and business practices to deliver Cisco-validated solutions and services to customers. Through training, specialized support, and a partnership with Cisco, we design, implement, and operate Cisco solutions.
Further Information about IT Small Business Support
IT Services Brisbane support small business owners, medium-sized businesses and large corporations. We are experts in what we do and take pride in taking care of your IT needs—no matter how small or large. Get in touch for an informal chat about what we can do for you and your business.